Challenges for agricultural food production – indoor farming in closed, controlled and automated processes are coming into focus worldwide – in conversation with Jörg Trübl, Board of Directors of MABEWO AG from Switzerland.
It is undisputed that agricultural production plays a crucial role in the global food supply. However, climate change, dwindling resources and rising population figures pose enormous challenges to this production. The need for sustainable production while conserving resources and avoiding transportation is a theme of the MABEWO group.
"Indoor farming represents a possible solution for sustainable agriculture. This involves sowing, growing and harvesting plants under controlled conditions indoors," says Jörg Trübl, environmental engineer and member of the board of MABEWO AG. The Swiss MABEWO group of companies is working to develop innovative indoor farming solutions with modular facilities for the production of salads, micro greens, mushrooms and herbs, which are operated and continuously optimized under the MABEWO brand Food & Energy Campus. "In 2021, the first indoor farming facility opened at the Food & Energy Campus in Gross-Gerau, Germany, providing fresh, healthy vegetables to local plates," says Jörg Trübl.
Advantages of indoor farming
Project manager of MABEWO GREENTOCUBE Jörg Trübl comments: "Indoor farming enables the year-round, reliable and efficient cultivation of plants using state-of-the-art technology as healthy food compared to conventional agriculture." Plants grow protected in a confined space, reducing or eliminating the need for pesticides and other chemicals, and optimizing water and energy consumption. "The indoor farming systems are fully automated and modular to meet the needs for high-quality produce, variable expansion and minimal effort," adds Jörg Trübl.  The MABEWO group of companies focuses on innovative and sustainable solutions by using clean electricity for crop production with the help of photovoltaic systems. Jörg Trübl points out that a higher crop yield is possible, but above all, production is independent of weather, season and location.
This opens up new opportunities for local food production, especially in urban areas. Jörg Trübl explains that strengthening regional and decentralized agricultural production is necessary to make proven agricultural structures fit for the future. It is about nothing less than empowering farmers. "However, no indoor farming mega-centers with several 10,000 square meters of cultivation area are to be built, but small to medium-sized facilities are to be integrated at the farmers' premises," Jörg Trübl explains the vision of the MABEWO group of companies.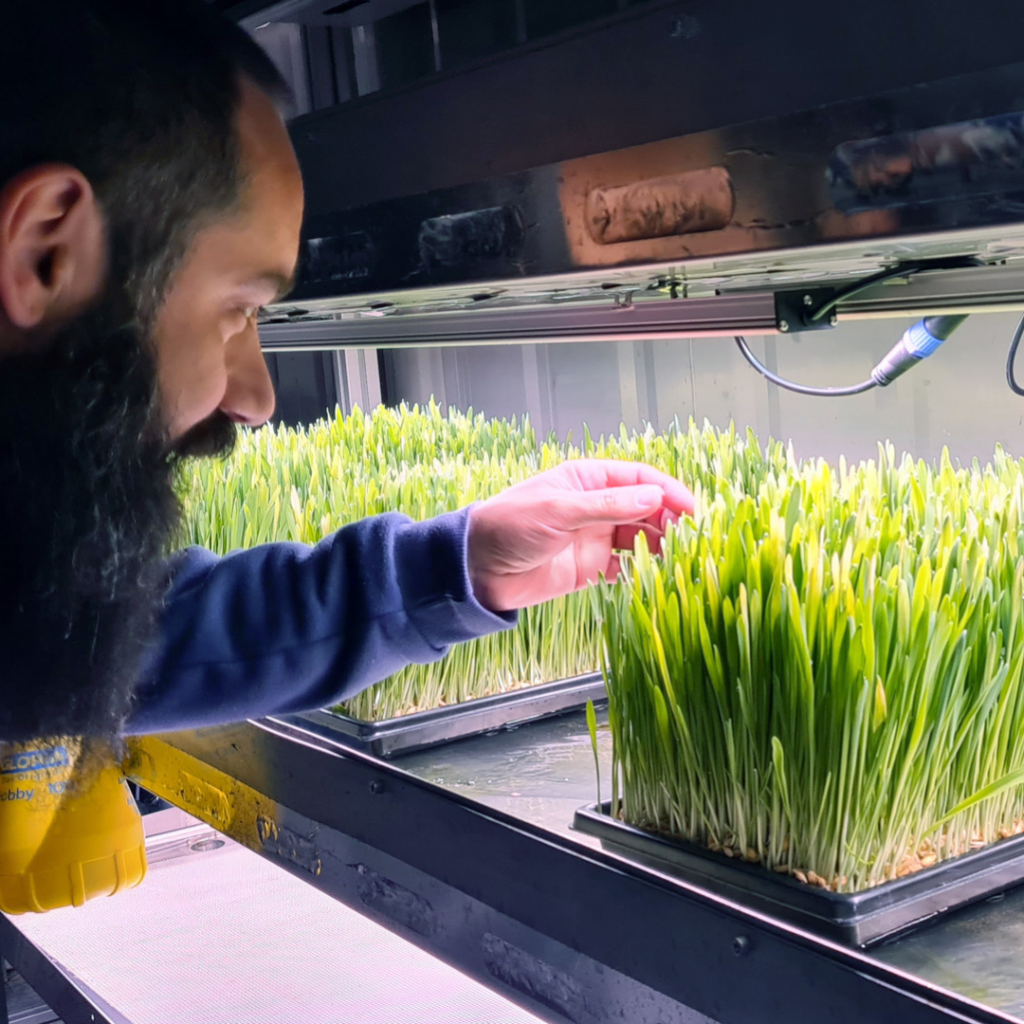 Vertical modular plants of MABEWO AG
Production from the ground to several production heights, as a vertical modular plant allows to grow a multiple in closed culture systems, as an innovative form of indoor farming. In this process, plants are grown in special modules, each of which has its own lighting, irrigation, and monitoring. "Through these technologies, large quantities of crops are produced in a small space – as fresh and healthy food directly on site," explains Jörg Trübl.
One advantage of the technology of MABEWO's indoor farms, is found in the highly effective hygiene concept, which makes pesticides superfluous and thus not only protects the plant world, but also nature. In addition, up to 90 percent water can be saved and no genetic engineering is used, which influences taste, size and growth. What is convincing is that the products are produced directly near the end consumer, thus avoiding long transport routes and the associated emissions.
Sustainable future of agriculture
There is no question that agriculture must become more sustainable. "In view of the climate and energy crisis, this can only mean a rapid expansion or use of decentralized, renewable energies and an expansion of local food production," says environmental engineer Jörg Trübl. New technologies and production systems, such as indoor farming, offer opportunities to ensure sustainable and future-proof food production. As an important contribution, with vertical modular systems, the transformation of agriculture will be enriched and continue to progress, Jörg Trübl is convinced. The European Union is also pursuing further independence from energy, food and fertilizer imports with the European Green Deal. Business groups such as MABEWO also see potential in the technology for use in emerging countries, where the supply of food is often still problematic. Jörg Trübl comments: "The production of vegetables and fruit within large cities can contribute to self-sufficiency and improve waste disposal by producing biowaste and composting it."
Conclusion
MABEWO AG's technology shows that sustainable and future-proof food production is possible. With the vertical modular plant, plants can be efficiently grown in a small space, which promotes local food production and reduces transport costs and emissions. The technologies combined by the MABEWO group of companies thus offer a promising outlook for the future of agriculture.
For the purposes of media law, editorial responsibility is held by
Maximilian Bausch
Management Consultant & Blogger
Maximilian goes in for automation as a tool of simplification of work. Further development is his passion. Without automation, nothing runs anymore, neither industry, handicraft nor the service sector. Generations X, Y and Z are completely digitized and the future is reshaping itself – boundaries are disappearing. Maximilian counts himself among the young Native Digitals with the idea of using automation across the board. In his blog www.bausch-enterprise.de, he deals with artificial intelligence and digitization, builds on the future workshop to deal with prejudices and fears of automation. With it the way for economy and efficiency of enterprises positively to accompany, by communication and discussion are taken up. You can reach us at www.abowi.com
Contact:   
MABEWO AG
Chli Ebnet 3
CH-6403 Küssnacht/Rigi
Switzerland    
T +41 41 817 72 00
info@mabewo.com
Represented by Mr. Jörg Trübl
MABEWO AG stands for sustainability. "Make a better world" invests in the future and develops innovative technologies to solve the biggest challenges of our time: Climate protection, energy transition, resource conservation and food supply. Mr. Jörg Trübl is a trained environmental engineer and has 20 years of practical economic experience in business management as a consultant, coach and CEO of SMEs in Europe. Further information under: https://www.mabewo.com/
Press contact:  
MABEWO AG
Maximilian Fischer
Chli Ebnet 3
CH-6403 Küssnacht/Rigi
Switzerland  
T +41 41 817 72 00
presse@mabewo.com
FAQs:
What are the advantages of indoor farming compared to conventional farming?
Indoor farming offers numerous benefits, including reduced use of pesticides and other chemicals, optimized use of water and energy, higher crop yields, and independence from weather, season, and location. Especially in urban areas, the technology opens up new opportunities for local food production, which can help reduce transportation costs and emissions and strengthen regional economies.
What is a vertical modular plant and what are its benefits?
A vertical modular plant is an innovative form of indoor farming. It involves growing plants in special modules, each with its own lighting, irrigation, and monitoring. This allows for the production of a large quantity of crops in a small space and promotes local food production. Long transportation distances and associated emissions can also be avoided.
How can technologies contribute to the development of sustainable agriculture?
Bundling technologies helps to produce efficiently in small spaces, promote local food production, and reduce transportation costs and emissions. Technology can also be used in emerging markets to improve food supply and promote bio-waste management. The vision of the MABEWO group of companies is to make an important contribution to achieving a sustainable future for agriculture.